Responders attend Humanitarian Reception hosted by Their Majesties The King and Queen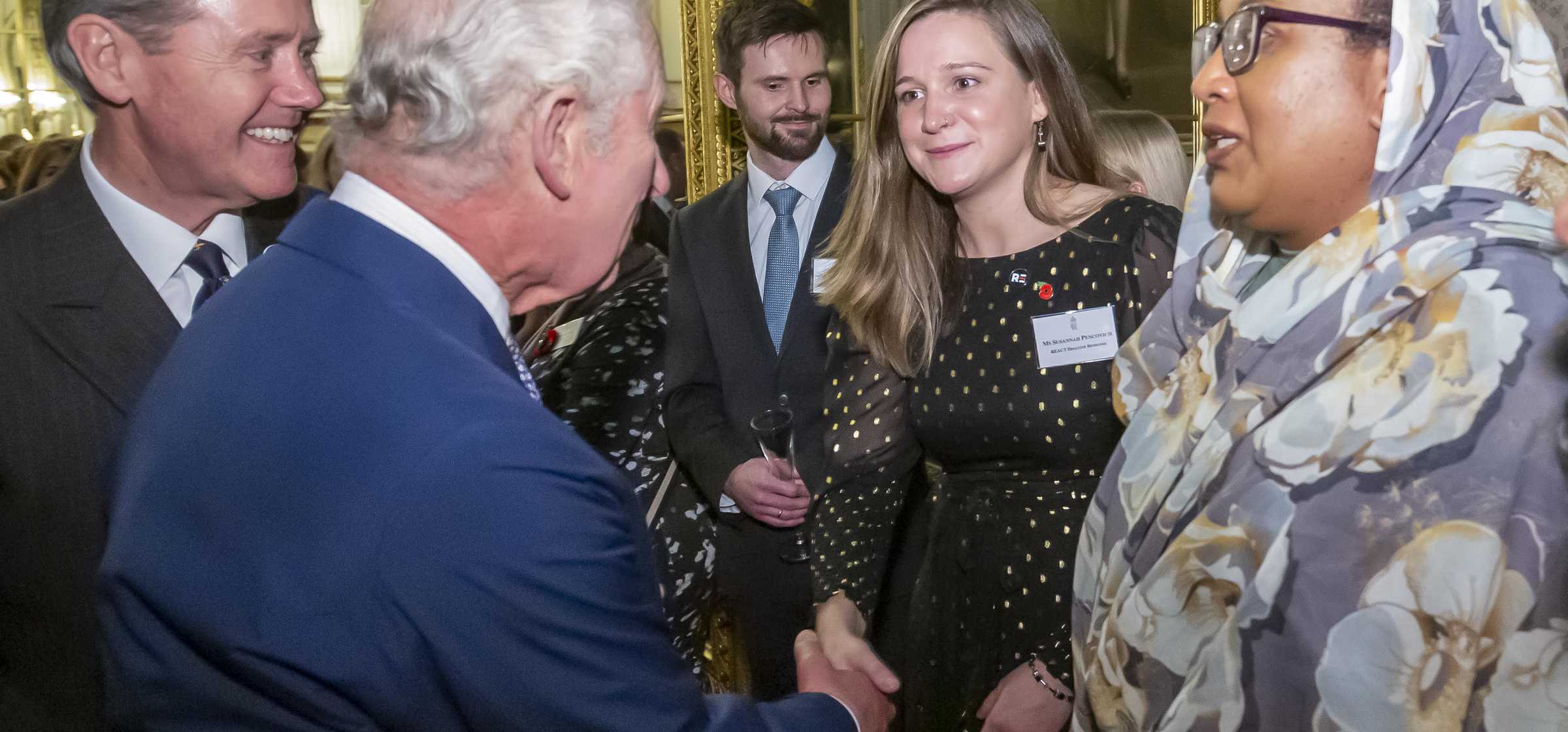 Posted by Laura Butlin 10th November 2023 News
Estimated Reading Time: 2 mins
Buckingham Palace recently played host to a prestigious reception hosted by Their Majesties The King and Queen, accompanied by the Duke of Gloucester. The event aimed to acknowledge and reflect upon the United Kingdom's significant contribution to global humanitarian efforts and the volunteer-led organisations that support those efforts on a daily basis. REACT were honoured to receive an invitation to the event and undertook the tough process of selecting four volunteer Responders to represent the charity. After some deliberation, Chris Cheeseman, David Harrington, Sarah McBride, and Susannah Pencovich were chosen in recognition of their contribution to recent deployments.
Also in attendance were notable figures from the humanitarian sector, including DEC Chief Executive Mr. Saleh Saeed and high-profile supporters like Dame Joanna Lumley, Sir Michael Palin, and Mr. Adrian Lester. The reception showcased the human stories of those involved in the sector, from fundraisers to frontline workers, and those who have been impacted by crises, including communities seeking to protect their cultural heritage, and refugees building new lives in the U.K.

REACT Strategic Advisor for Ukraine, David Harrington said "It was an absolute honour to represent REACT at such a prestigious event and in the spectacular surroundings of the main ballroom of Buckingham Palace. Besides having the opportunity to meet HM The King it was also great to meet so many from across the humanitarian sector, having an enjoyable time socially whilst in parallel making new contacts that will help move REACT forward in the future. And any evening that includes an engaging chat with Dame Joanna Lumley will be one to remember!

Sarah McBride, who recently deployed to Morocco after the recent earthquake, also enjoyed the event. "What an honour and privilege to spend the evening with fellow humanitarians at a Royal Reception which recognises and reflects on the UK's contribution to humanitarian efforts across the world. It was an opportunity to meet new people, connect with other charities and also to catch up with people that we met whilst on deployment! It was an absolutely wonderful and very valuable event."
The Buckingham Palace reception not only celebrated six decades of humanitarian efforts but also showcased the dedication of all humanitarian volunteers in putting others first and contributing to a better world. Their experiences, connections, and shared commitment to making a difference were evident.