Reflecting on Ukraine Part 2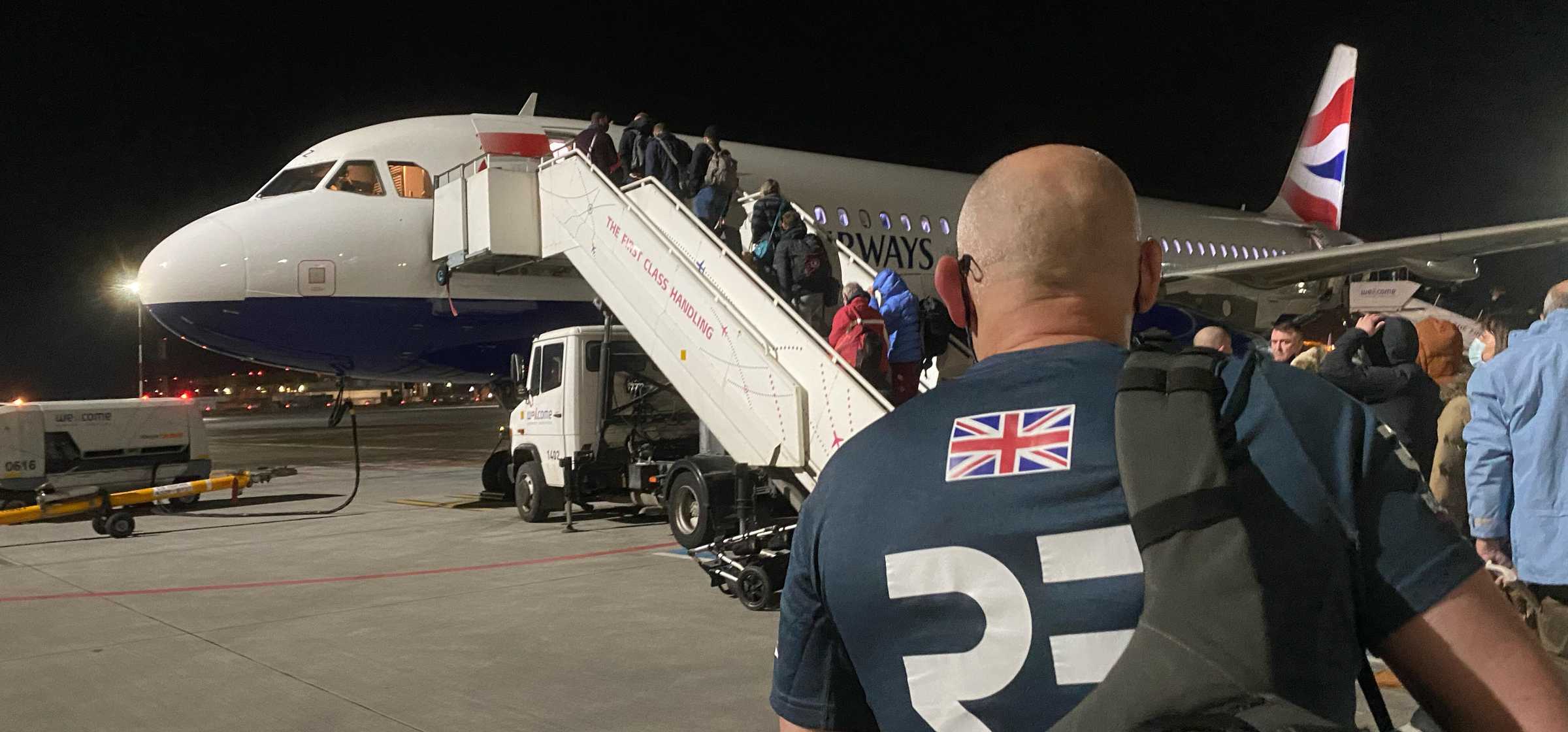 Posted by Gordon Mackenzie 12th March 2022 RE:flections
Estimated Reading Time: 7 mins
The RE:ACT team's eight-day reconnaissance mission to Ukraine and neighbouring countries to assess how we can help support the complex needs of the ever-increasing flow of refugees is complete.
International Operations Manager, Paul Taylor MBE and colleague Gordon Mackenzie will now report their findings to Chilmark colleagues.
In the second part of his mission blog, Gordon, a former Royal Marine Officer, details the challenges and experiences the RE:ACT team encountered on the mission.

Paul and I are at Krakow Airport discussing the last eight – very full-on – days here in Eastern Europe. We've visited nine different border crossings, traversed four countries and driven thousands of kilometres in the process!
Paul starts with some feedback for me. He says I work well in analogue but could do better on tech, and he's so right! At 58, I am the generation that had one BBC computer in the school and struggle with anything more technical than an email or WhatsApp. Luckily for me then, this week was distinctly low tech, instead it was full on pragmatism with situations requiring good old-fashioned adaptability, flexibility and resilience.

The final 24 hours of the trip were a good case in point. Before our last two meetings with NGOs here in Poland, we were in the Western Ukrainian city of Lviv experiencing first hand life with the affected population. As the old adage goes: "Time spent on reconnaissance is seldom wasted."

If you have read the previous blog, you will know our first five days were spent in Romania and Moldova, with a short hop across the border into Ukraine to ensure we had "eyes on" the situation there too.
Phase two required us to relocate to Poland and continue to assess the situation and any unmet needs at the border crossing points. This is the closest border to the UK and the route out for the majority of those choosing to leave Ukraine

We flew from Bucharest to Krakow via Warsaw where we collected a hire car and made our way to our accommodation. Throughout our journey the brilliant team back in the UK were feeding us contacts and links for us to explore.

After a night in what I can only describe as a small 'yellow cell' – the only available accommodation in Krakow due to the massive influx of displaced persons - we headed for Rzeszow, which is the closest town to the Ukrainian border and the site of our first meeting.
The weather was horrendous, with high winds and sleet constant companions for the entire journey. From the warmth of the car, it was unimaginable to think of the elderly, women and children struggling towards safety. The cold wind must have been driving them west literally and metaphorically.

After the two-hour drive, we met a team of amazing humanitarians from Ukraine who have repurposed their charity from building houses for the disadvantaged to providing aid to the displaced and those under siege.
We were introduced to a business owner who had provided the charity with his 3500 square metre warehouse, which had been cleared and was ready to receive humanitarian aid.
Our other hosts were a retired Ukrainian Army chaplain and a construction engineer who were both old enough not to be stopped at the border. Our main contact was "Vicky", (name changed) a former lawyer and now, in her late twenties, a full time charity manager and true inspiration on International Women's Day. She spoke fluent English having worked for a US company.

After a tour of the facility, we loaded their battered old people carrier with pasta for the kitchens at Lviv railway station and followed them to the border.

Leaving our hire car, we grabbed our bags and joined our new friends only to face the tortuous bureaucracy required to cross into Ukraine. FOUR HOURS LATER we were heading to Lviv!
The journey took us passed an endless stream of displaced people travelling in the other direction on buses, in cars and on foot heading to the Polish border. It was a scene more reminiscent of WW2, with men, women, children (and their pets!) carrying the very few precious possessions they had left in the world.
It was reported that over two million had already crossed at a rate of 100 per minute. Seeing the delays and bureaucracy both ways that number was hard to imagine. I can only assume it was based on an average across every checkpoint into the west.
With the immediate needs all too obvious, it was difficult to fathom why the process had not been streamlined to allow humanitarian convoys in and relieve the suffering on the way out. It would not take a lot to create a rolling border control and smooth the flow.

Our journey once inside Ukraine was pretty rapid. Our hosts shared their experiences of the war and helped fill the gaps in our knowledge of Ukraine, its history and recent events along the way.
They viewed this war as a genocide against Ukraine. This view was dramatically reinforced by news of a children's hospital and maternity ward being shelled.
"See they want to kill even the unborn!" one of our hosts said.
We passed numerous checkpoints and sangers constructed from virgin white sandbags and large billboards displaying the ubiquitous Ukrainian flag. Each had a slogan encouraging the population not to leave but to stay and fight.
We arrived in Lviv after dark, and after unloading the latest aid we met the rest of the charity's team who were still working long after it should have been time to finish.

Too late to make the border before the 10pm curfew, we resorted to plan B, expecting to spend another night in a sleeping bag - this time on the office floor. But our amazing hosts had a surprise in store.
They escorted us into the centre of this beautiful, cultured, old city where we met the organisation's founders for dinner. Afterwards we were put up in what must have been one of the nicest boutique hotels in Lviv!
Miraculously there were two rooms that had come available which they insisted we take. The only reminder that we were in a war zone was the tour, a brief of the evacuation route, location of the air raid shelter and a 10pm-7am curfew.
A hot shower and a bed made up with crisp white linen provided a surreal end to a full and productive day.
We had established a supply chain for humanitarian aid (start to finish). Established safe routes. Confirmed a full list of unmet needs and aid required and established the onward supply chain to those most in need.

Whilst we had constant comms with HQ and had individual trackers on the whole time, our day ended with a full debrief to the CEO and Director of Ops via zoom. It is reassuring that despite RE:ACT's higher risk appetite and willingness to get too hard to reach places, any decision is calculated, a dynamic risk assessment made, discussed and agreed with the operations hub back in the UK.
A 6am start the next morning and uneventful return to the border was followed by a rapid transit (relatively) across the BCP into Poland using a less well known and less congested corridor.
Despite this, the human suffering and struggle to reach safety was again tough to witness and it was difficult not to stop and help. As Paul, a former Army Warrant Officer and expedition leader would reiterate, it is important to stay objective, impartial and focus on the mission. In this case that was to create a full picture to enable us to provide a bigger and better effect going forward.

Collecting our frozen car, we said our goodbyes to our brave and dedicated new friends, who filled up with more aid before returning to Lviv. There the aid would go on to the besieged cities further east, or to support the displaced people huddled together at Lviv, or to support those heading for the border.

As we approached the border, the sun came out and we witnessed clear blue skies across a vast landscape of deep yellow stubble fields. Whilst I have no idea of the rationale for the colours of the Ukrainian flag, to me this was the reason why. I can imagine these fields covered in golden wheat under the clear blue skies of an Eastern European summer. My photo taken from the moving vehicle gives you some idea of why I was thinking this way.
We leave this region with mixed emotions. Firstly, it is with the sense of a job well done. Contacts made, needs identified, a much clearer picture of the situation which is already adding value to our efforts and those of other NGOs we are working with. Having completed my first international op, I am even more convinced this is an organisation that makes a difference and punches well beyond its weight and one I am proud to continue to serve.
I am older and wiser and a lot more streetwise, thanks to Paul's vast expertise and hard-won experience.

I am left with a profound sadness that in this day and age the veneer of civilisation is still as thin as it was when I left the Royal Marines 30 years ago! Then, like now, reacting to a land grab by a dictator.

I am also reminded of the sense of guilt to be coming back to a safe and loving home. I am sure many veterans will attest it is difficult to walk away when you feel you can and should stay and do more. This does not sit well.
I just hope that I can and do return one day soon and get to meet our hosts again.

If their courage, defiance, and hope for the future is shared by the rest of the population - as I am now convinced it is - then this is a country that will be hard to defeat.
GM