RE:ACT Provides Spark for Health Centre Recovery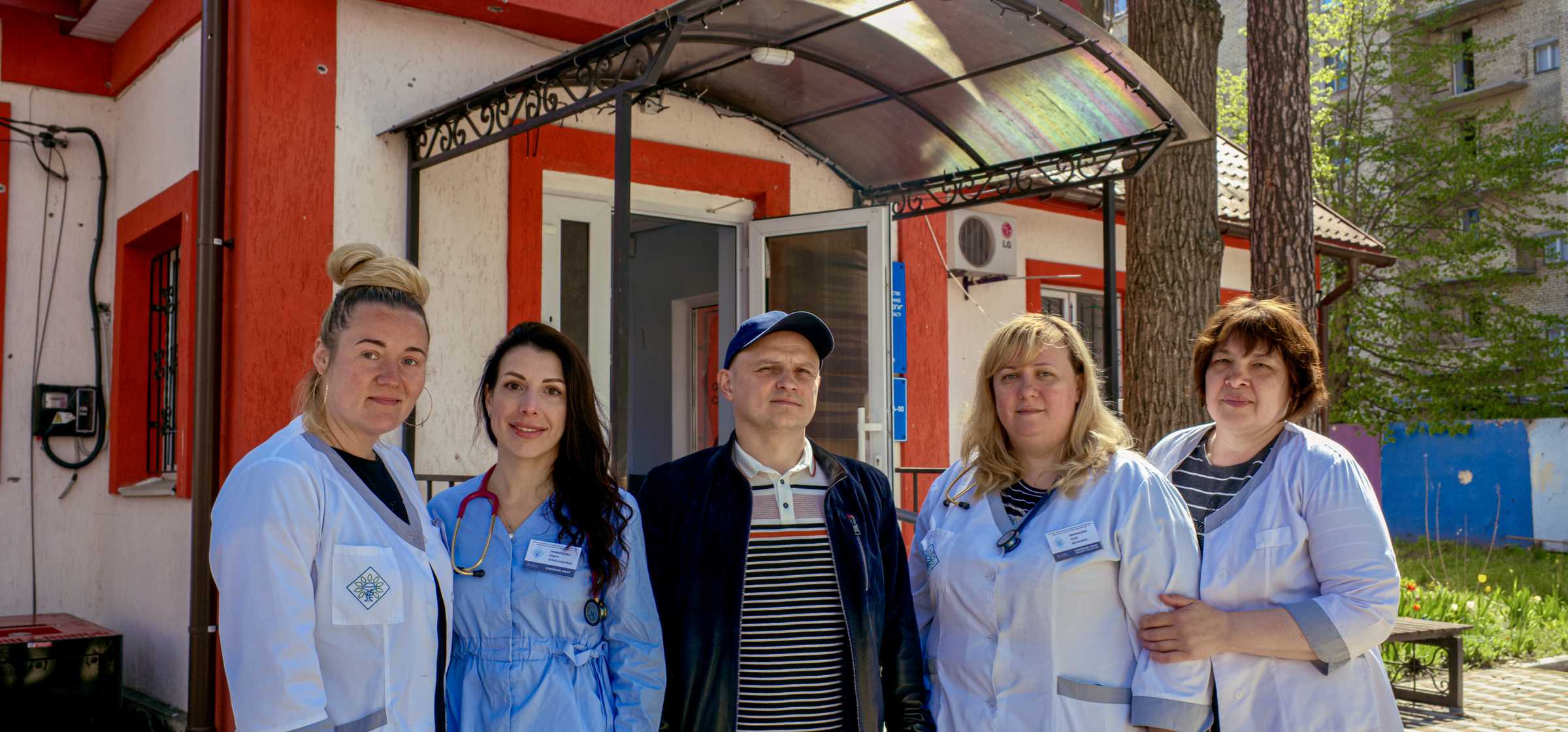 Posted by Robert Cole 08th July 2022 News
Estimated Reading Time: 2 mins
RE:ACT's Operation Pace, its humanitarian aid mission for the people of Ukraine, is prioritising the delivery of food, medicine, and infrastructure supplies. The provision of electrical generators to hospitals and schools has been a game-changer for some communities ravaged by the conflict. This is Dr Andrii Levkivskyi's story.
The Primary Health Care Centre in the city of Irpin has been the place generations of locals have sought out when in need of medical treatment and support.
In late February, from the very first days of the conflict in Ukraine, it was where both severely injured soldiers and civilians were rushed too for sometimes life-saving surgery.
At the heart of this team of doctors, nurses, and auxiliary staff, was the centre's Head, Andrii Levkivskyi.
Dr Andrii had to think fast when the war began. Some of the hospital's smaller satellite clinics were too close to the frontline and it was dangerous for staff to continue working there. He decided the best thing was to temporarily close them and concentrate efforts in one place.
"We worked 24 hours a day and lived in the basement because moving around the city was very dangerous, and patients were coming in all the time," said Dr Andrii. "We were treating soldiers and local people. Most were admitted with wounds from mines and other explosives."
Then on March 5th– less than two weeks after the war began - the clinic was shelled, and the boiler room and the electrical network were badly damaged. Fortunately, no one was badly hurt but the clinic – the only local place for the wounded to receive treatment – was forced to shut its doors.
"If we had possessed an electrical generator at that time we could have carried on and continued to provide medical care, but we didn't. We had no heat or water, so we were forced to evacuate because it was no longer possible to operate," continued Dr Andrii.
The Ukrainians badly needed outside support for their live-saving work to begin again. Thanks to the generosity of RE:ACT donors, the amazing work of our London and Poland teams, and our brave logistical partners inside Ukraine, we were able to help.

Within days of hearing of the situation in Irpin – a city close to the Capital, Kiev – an industrial-size generator was bought from suppliers in Eastern Poland (to support the local economy and prevent unnecessary transportation costs), and via our partners, the Ukrainian Education Platform, was shipped to central Ukraine.
The health centre is now up and running again. It's something for which Dr Andrii says he will be forever grateful.
"I want to personally thank everyone at RE:ACT for their generosity and support. We would not be operating again without your help. Thanks to all the volunteers and other organisations who helped us to rebuild the infrastructure in our city."
RE:ACT wants to help many more people like Dr Andrii to get Ukraine's damaged clinics back in operation. To once again treat the casualties of this conflict. To do this we need your support. Please click here if you can help. Donations are welcome both large and small.