RE:ACT joins with other charities to tackle food poverty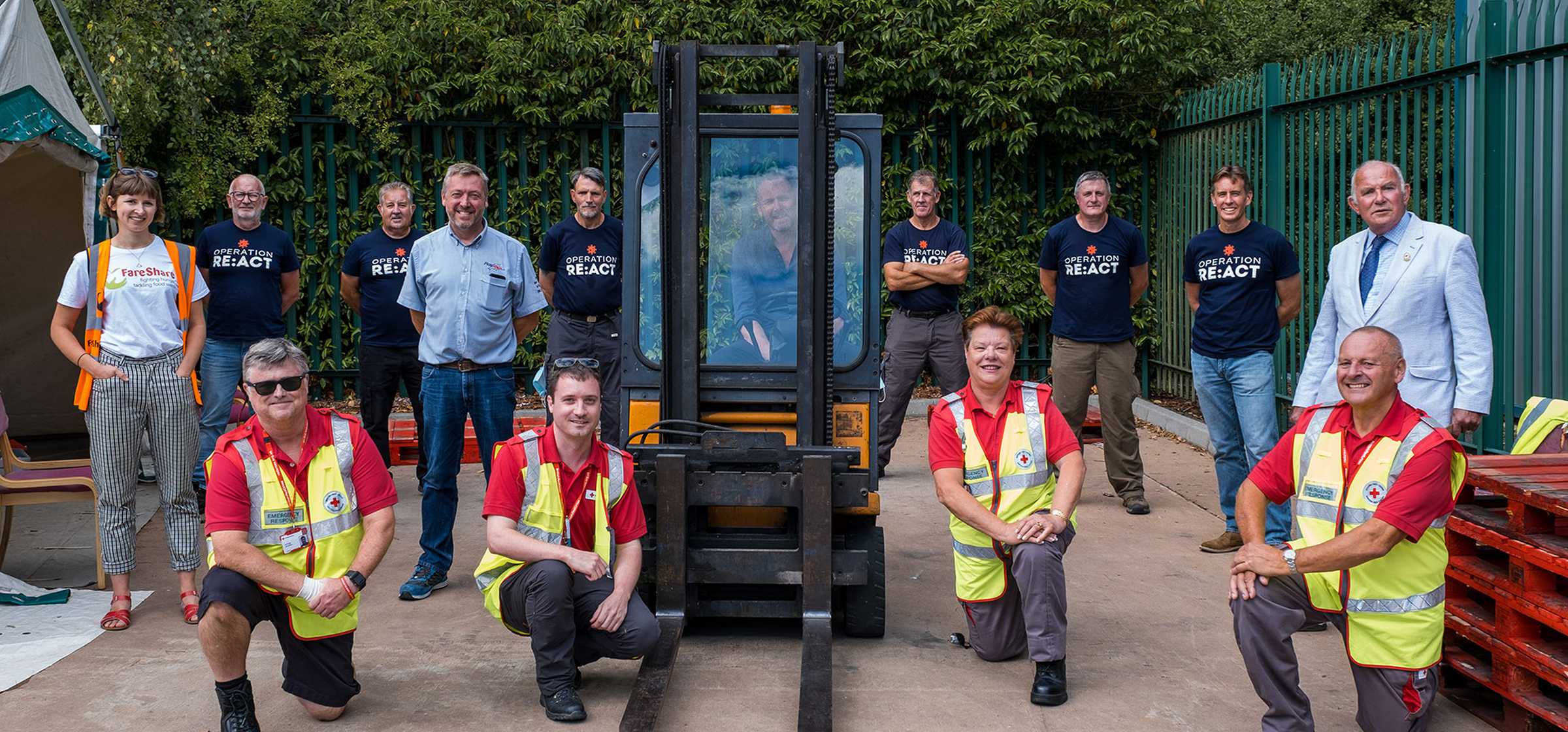 Posted by Alex Whitty 03rd August 2020 Press Releases
Estimated Reading Time: 3 mins
CHILMARK, WILTSHIRE (3 AUGUST 2020) – A team of RE:ACT volunteers has been running an Emergency Collection Point (ECP) food distribution centre in Exeter, Devon, in partnership with FareShare South West and British Red Cross, redistributing over 30 tonnes of food to charities supporting vulnerable families and communities throughout Devon and Cornwall.
The ECP has been running every Monday for the past six weeks at the British Red Cross Exeter office, with food from FareShare South West, which supplies charities with surplus food from wholesalers that would otherwise go to waste.
During Covid-19, FareShare South West has experienced a fivefold increase in demand for food amongst its network of Community Food Members (CFM). To deal with the surge in demand, three emergency distribution hubs were established in Bristol.
RE:ACT was initially asked to give logistical support at the main hub at Bristol's Ashton Gate Stadium. Realising the strain on many smaller food charities that were travelling long distances to Bristol, and the number of more remote charities that were unable to make the journey, RE:ACT designed and established the ECP in Exeter, collaborating with FareShare South West and British Red Cross, who provided their site for the location of the ECP.
The partnership also involves Bristol charity Children's Scrapstore, who provide the driver and vehicle to transport food between Bristol and the ECP.
Bulk food is delivered at the FareShare South West main hub at Ashton Gate Stadium, then reloaded onto the Children Scrapstore vehicle, driven to British Red Cross in Exeter, where pallets are unloaded by local outfit Regency Wines using their forklift truck. RE:ACT volunteers then reconfigure pallets into mixed items and organise collections ready to load onto CFM vehicles as they arrive at allotted times.
The ECP has resulted in time and fuel cost savings for those charities already commuting to Bristol, as well as enabling several other charities who couldn't access the hub in Bristol to obtain essential food supplies. The ECP is now providing food to 42 frontline organisations, delivering to hundreds of families across Devon and Cornwall. In total, it is estimated that over 67,000 meals have been provided so far.
Ben Lampard, Director of Operations, RE:ACT, said:
"Food security and poverty has been a real issue and concern for many families and it's something we've been acutely aware of as we've continued to monitor and assess the UK's needs during Covid-19. It's fantastic to see the role our volunteers have played in Exeter and how well they're working together with FareShare South West, British Red Cross and Children's Scraptstore, to ensure vital support is accessible to those who most need it. This is a terrific example of charities collaborating to make a real difference and alleviate suffering, preventing a lot of struggling families from falling into crisis."
Shelley Wright, Development Manager for FareShare South West, said:
"We are overwhelmed with how amazingly organisations have come together and collaborated to make such a huge impact to those struggling in these difficult times. Food insecurity was an issue for many across Devon and Cornwall prior to the Coronavirus crisis, but the last few months have exacerbated already fragile situations for people. Being able to get the basic need of food met will for many be the reason they do not fall deeper into more complex issues relating to poverty."
Debbie Craig, Emergency Response Officer for British Red Cross in Devon, said:
"We're enormously proud of our Red Cross emergency response volunteers in Devon. The partnership has demonstrated how – by bringing together the skills and resources of different organisations – we can mobilise much-needed support to efficiently combat widespread food poverty at a regional level."
For press enquiries please contact [email protected].