RE:ACT helps tech donation scheme supporting isolated and disadvantaged in Nottingham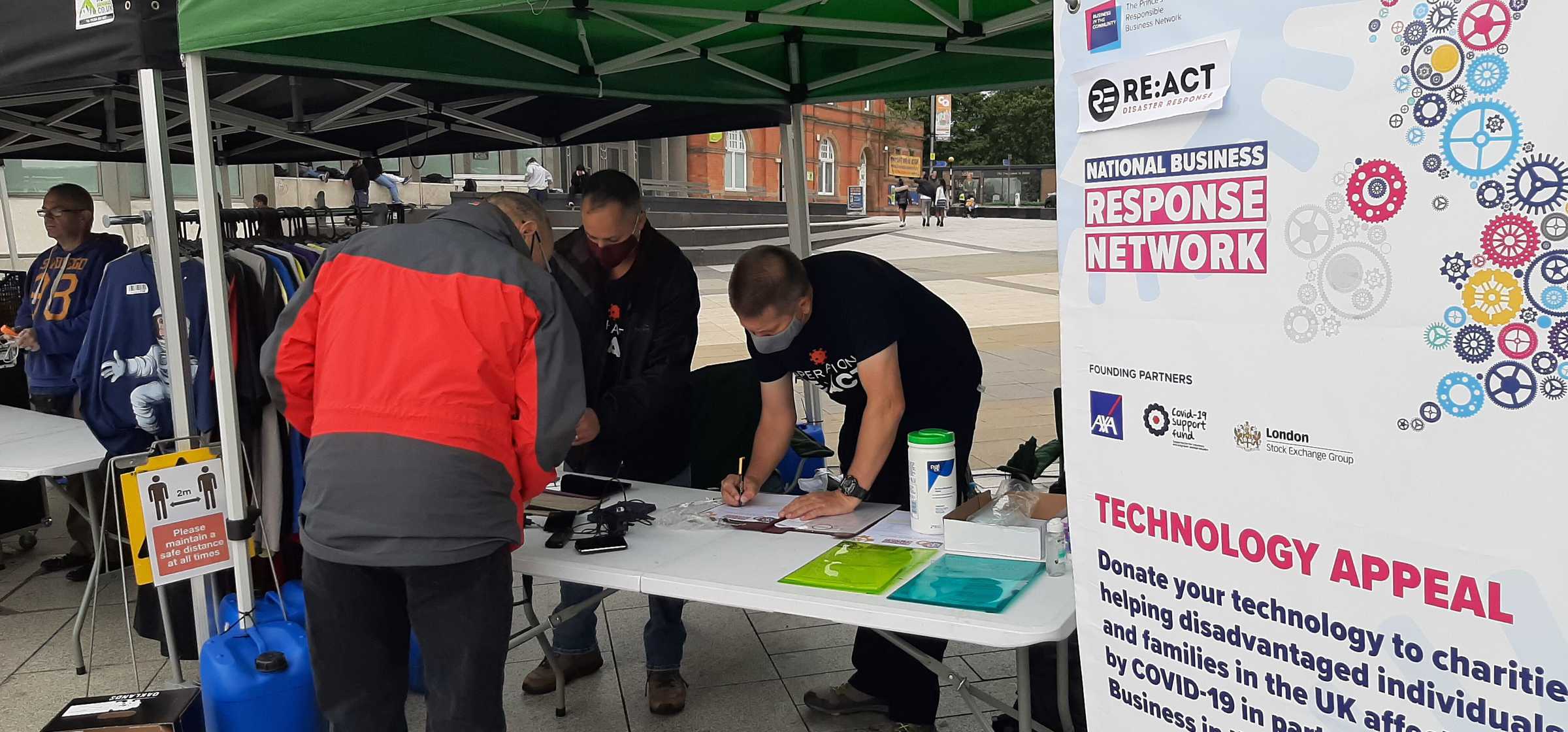 Posted by Alex Whitty 27th August 2020 Press Releases
Estimated Reading Time: 4 mins
CHILMARK, WILTSHIRE (27 AUGUST 2020) – RE:ACT volunteers in Nottingham are helping a pioneering initiative set up by Business in the Community (BITC)'s National Business Response Network (NBRN), in partnership with Boots – the UK's leading pharmacy-led, health and beauty retailer – to encourage people to donate unused smart devices to individuals and families who have been shielding and self-isolating due to Covid-19.
The initiative aims to provide spare smartphones, tablets and laptops donated by the public to local adults and children who are without access to Internet-enabled devices because of social distancing rules and the closure of workplaces and schools.
Research conducted by The Royal Society of Chemistry shows that up to 45% of UK households have between two and five unused smart devices, which could be upcycled and benefit isolated individuals unable to connect with family and friends, as well as help disadvantaged children to continue their education, and out-of-work adults learn new skills as well as search for job opportunities.
The scheme was devised out of the NBRN, an initiative set up by BITC in the early days of lockdown to match community needs with the right business support.
Access to digital technology is one of the top two requests for help made through the NBRN, which has already matched over 2,000 needs with business support since its launch in April. After identifying a local demand for smart devices, BITC brought together Nottingham City Council and Boots, in its hometown of Nottingham, to set up a collection point and make a public appeal for donations to help people throughout the East Midlands.
Disaster response charity RE:ACT is a network partner of NBRN and has been working closely with the Voluntary and Communities Sector Emergencies Partnership (VCS EP) supporting frontline services and vulnerable communities. Since launching its Covid response in March, RE:ACT has so far supported over 110 individual tasks throughout the UK, including 13 PPE tasks distributing over 10 million PPE items, and 21 food distribution tasks providing over 3 million meals to vulnerable communities.
As a result of its work to date with the NBRN and VCS EP, and its experience and expertise in logistics, RE:ACT was requested to provide volunteers to assist with the running of Boots UK's tech donation points in Nottingham. RE:ACT volunteers will receive and document all donations to ensure a reliable audit trail, before devices are reprogrammed and then distributed in the local community.
The initiative is being trialled for an initial two-week period on Wednesdays and Saturdays, starting Wednesday 26th August.
Richard Sharp, CEO RE:ACT, said:
"Throughout the past five months of RE:ACT's involvement in the UK's Covid response, we've been working hard in collaboration with the VCS EP and NBRN identifying and assessing unmet needs as soon as they emerge, and quickly responding to fulfil them. Our charity has been acutely aware of the ongoing needs within local communities at a time when the UK is trying to get back to normal life. This tech donation scheme is another example of addressing an emerging problem that the general public may not be aware of, similar to the growing issue of food poverty and insecurity, and it also once again demonstrates the powerful partnerships and collaboration between organisations like RE:ACT, BITC and Boots that's helping to alleviate the Covid crisis here in the UK."
Amanda Mackenzie OBE, Chief Executive of Business in the Community, said:
"The existing digital divide in the UK has been blown wide open by the pandemic. Despite the best efforts of government, it is businesses which can close this gap and end the isolation increasingly faced by school children, families and the newly redundant; I am proud that Boots and other companies are answering that call through the National Business Response Tech Appeal. By launching this pilot, Boots has shown real vision and set a high bar for response business."
Morag Punton, Head of CSR, Boots UK, said:
"Boots is a business that has been grounded in care for over 170 years. As an essential retailer throughout the Covid-19 pandemic, we have been proud to step forward and support the most vulnerable in our communities. We are pleased to partner with the NBRN's tech donation appeal to help those experiencing the digital divide during this challenging time."
-ENDS-
About RE:ACT
RE:ACT is a UK-based disaster response charity that repurposes the hard skills and experience of military veterans and combines a military approach with humanitarian action to aid the hardest to reach and most vulnerable people affected by disaster.
For press enquiries please contact [email protected].
About Boots UK
Boots UK (boots.com), the UK's largest pharmacy-led health and beauty retailer, is part of the Retail Pharmacy International Division of Walgreens Boots Alliance, Inc. (Nasdaq: WBA), the first global pharmacy-led, health and wellbeing enterprise.
With 2,465* stores in the UK, its purpose is to champion everyone's right to feel good. Boots UK is committed to providing exceptional customer and patient care, be the first choice for pharmacy and healthcare and offer innovative 'only at Boots' exclusive products such as No7, a leading UK skincare brand, Soap and Glory and Liz Earle. Created 170 years ago, the Boots brand is still at the heart of the communities it serves.
*As of August 31, 2019 excluding equity method investments
About Business in the Community's National Business Response Network
Business in the Community's National Business Response Network connects national and local community groups, small businesses, local authorities and charities with businesses and brands who can offer support. Our mission is to match business resources to community needs in the right place, at the right time.
Business in the Community's National Business Response Network and the work we do is made possible by:
Network Partners: FareShare, In Kind Direct, The National Emergencies Trust, Neighbourly, RE:ACT and The Voluntary and Community Sector Emergencies Partnership
Founding Partners: AXA, London Stock Exchange Group
Supporters: NBRN digital platform made possible by Nominet and Outlandish