RE:ACT help to ease pressure in Worcester Royal Hospital Emergency Department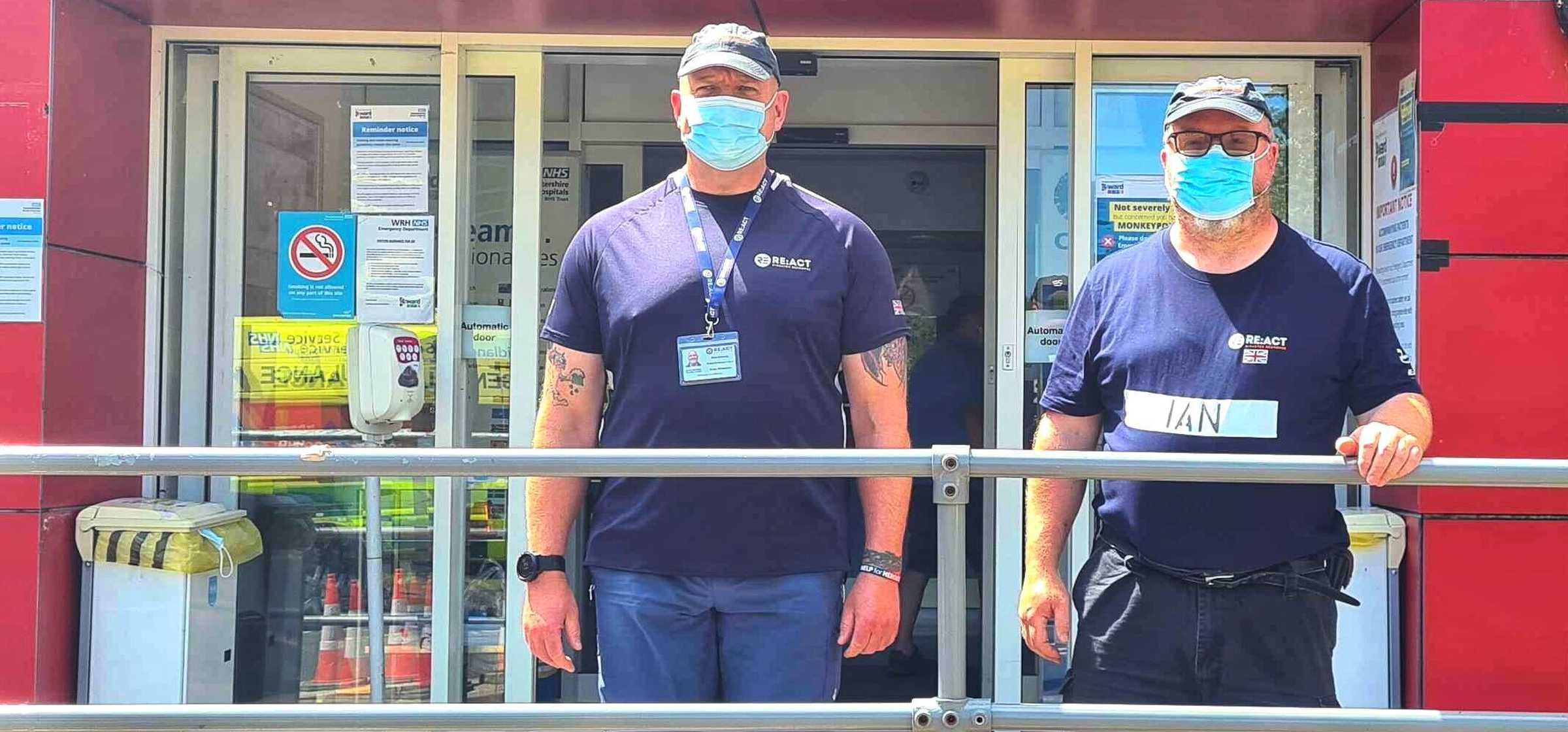 Posted by Alice Chick 28th July 2022 News
Estimated Reading Time: 2 mins
Throughout July, RE:ACT Responders have been on-hand at weekends in the Emergency Department at Worcester Royal Hospital to provide support during an exceptionally busy time.
Increased admissions, together with many hospital workers isolating with Covid-19, has put the department under extreme pressure. This led to Worcester Royal Hospital reaching out to RE: ACT to help manage the workload and protect their teams from becoming overwhelmed and exhausted.
A localised spike in Covid-19 cases, a higher number of patients coming into A&E, and the recent UK heatwave have all played its part in adding to the pressures hospital staff are facing. A recent busy weekend for the A&E department saw patient admissions reach 98 within 12 hours, significantly higher than the average of 60 they would usually expect.
RE:ACT Responders are assisting with the compassionate movement of patients within the department and are helping to distribute meals. This allows Health Care Assistants to focus their attention on providing the physical care that patients require.
In addition to this, RE:ACT Responders have been providing refreshments to both those facing a long wait, and also to staff who are working around the clock to attend to patients as quickly as they can.
RE:ACT has received excellent feedback from Worcester Royal Hospital and our Responders and the help they are providing is extremely welcome.
RE:ACT Responder Marie Griffiths who has been involved at the hospital says:

"Having supported the hospital during a busy shift on a Saturday, we returned on the Sunday to see some of the patients and their relatives from the previous day so it had been a long period of time for them in A&E. We were able to share some kind words and get to know each other a little better which seemed to help raise a few smiles despite the circumstances".

Marie continued:

"Patients commented on what a good job we were doing and it was great to feel that we had made a real difference to the A&E Team and people of Worcester through their A&E journey."
Health Care Assistants at the hospital explained why RE:ACT's help has been so crucial. On an average weekend, there are 7 Health Care Assistants per shift within the Emergency Department, but with many of those unable to work due to Covid-19, they have had as few as 3 Health Care Assistants available per shift, resulting in those remaining trying to absorb the full workload of their colleagues whilst also working through the higher admission levels.

RE:ACT is proud to support NHS Hospitals such as Worcester Royal Hospital, to help to protect the welfare of patients and staff alike. RE:ACT Responders have been at Worcester since the start of July and it is expected that we will continue to provide support until the end of this month.
None of the assistance we have provided would be possible without the support of our incredible volunteers and donors.
To enable us to continue helping those in need, both within the UK and Overseas, please consider supporting our work through a donation.