Marathon Tyre Flip: Training for a Guinness World Record to help support RE:ACT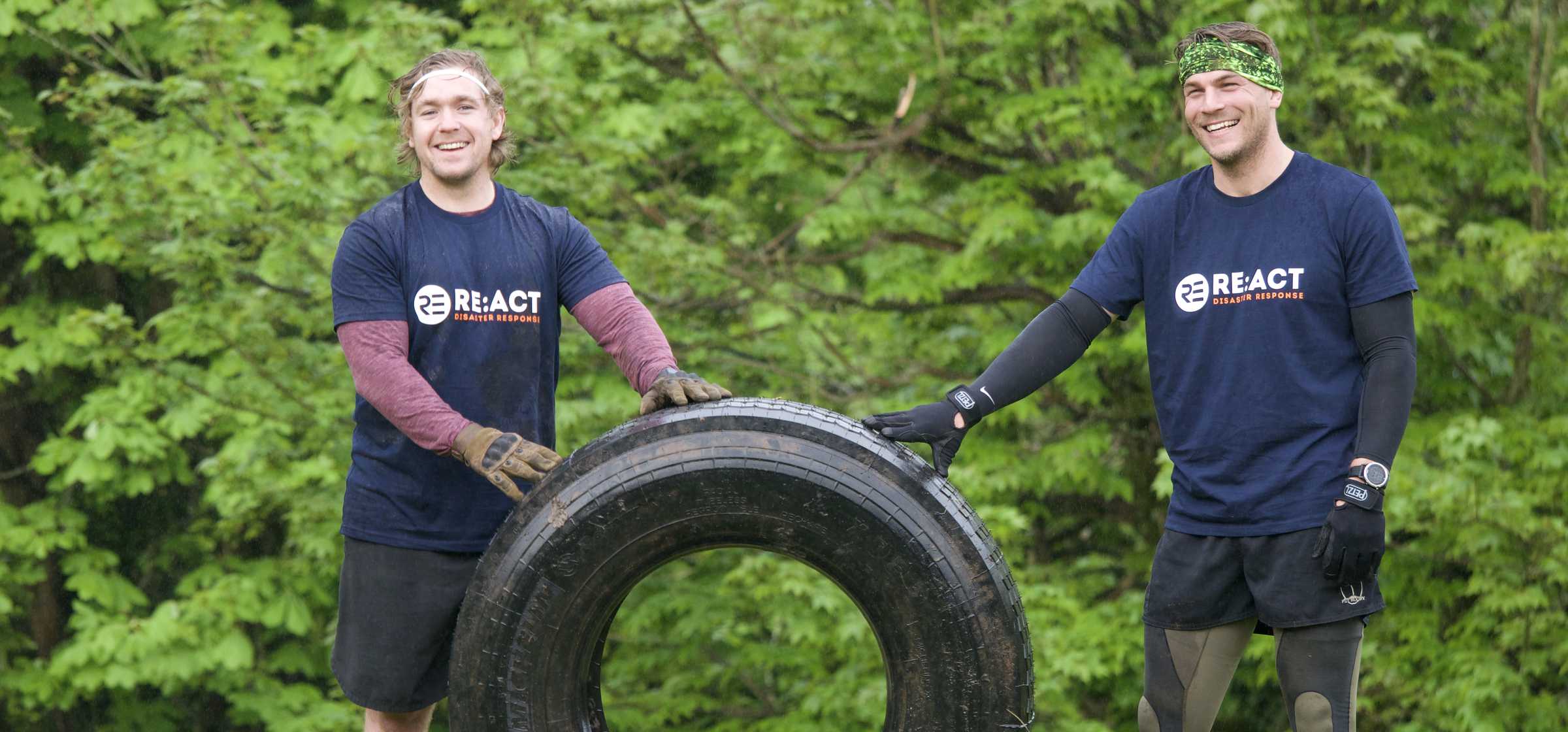 Posted by Alice Prichard 02nd July 2021 Fundraising
Estimated Reading Time: 5 mins
Completing a marathon is one of life's great endurance challenges. But completing the 26.2-mile distance by flipping a 150lb tyre in under 40 hours would never enter the minds of most people. Unless your name is Harrie Ellaway or Louis Plumridge. They're both Army Commando veterans, from 24 Commando Engineer Regiment. This September, they are attempting their Guinness World Record Tyre Flip Challenge, helping to raise funds for RE:ACT. We caught up with them to find out about their training and what motivates them.
So, what's your motivation for taking on this challenge?

Harrie Ellaway: Good question! I've always been someone who likes to push the limits, taking part in events that test me both mentally and physically. Over the last few years, I've completed a 117-mile coast-to-coast race, and attempted to summit Gran Paradiso and Mont Blanc. Taking on these challenges needs dedication but it's also what keeps me motivated. I set myself what seem like unachievable goals because I enjoy a difficult challenge. It gives me purpose in life. Every time I make the effort to train for the tyre flip challenge, I'm one step closer to being able to complete a Guinness World Record.
Louis Plumridge: My motivation stems from not wanting to let Harrie down. I originally came onboard to coach Harrie to help with his training. When we realised that it was a two-person event, I jumped at the chance to join. Knowing that I'm completing the challenge with Harrie gives me the motivation to keep going. If I stop, then we both fail.
I also agree with Harrie that it has given me back a sense of purpose. It's a tough challenge. When I was serving in the military I would always look to complete the hardest courses available. But once I left, it also meant I lost the military structure and I found that I wasn't challenging myself anymore. Training for the tyre flip has given me a big goal to work towards.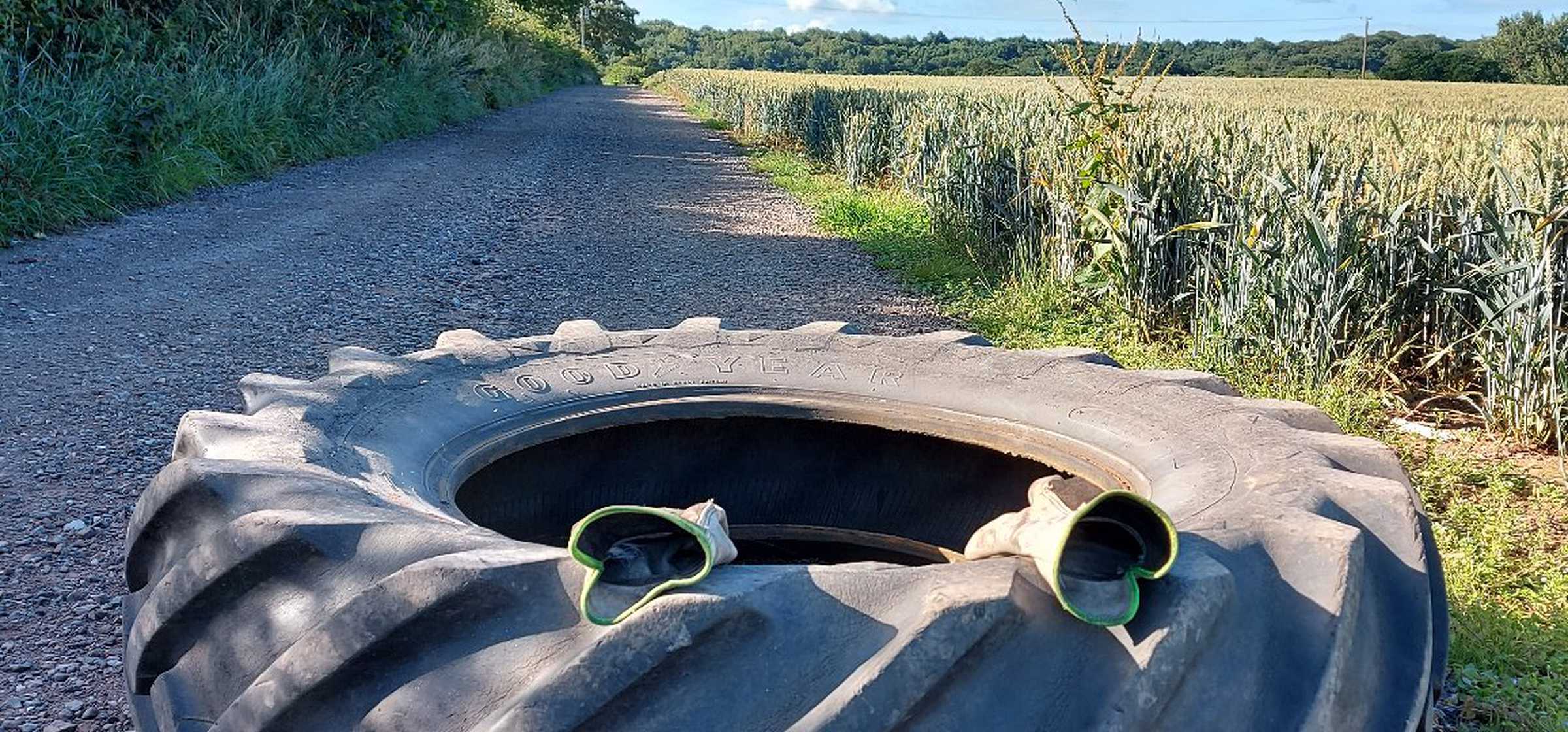 What was it that inspired you to attempt this Guinness World Record?
HE: To put it simply, nobody has ever done it before. It's quite difficult in today's society to find something that no one else has tried. With the prevalence of social media, it can make you feel like there's no point in trying something because everybody else has done it before you.
When I was thinking about my next challenge, I wanted to make sure that it's a mix of both strength and endurance. It's unlike any challenge I've put myself through before. Also, the concept is very simple, it's just flipping a tyre. I enjoy the monotony. We didn't want to put ourselves to something which requires a lot of new equipment, or where we had to fly to the other side of the world. All we need is a 150lb tyre, a decent pair of gloves and a great podcast.
LP: To be honest, the overall goal of completing this mammoth challenge means more to me than having the challenge verified by Guinness World Records. Of course, it'll be the icing on the cake and I have no doubt that we'll hit the target of 26.2 miles in 40 hours. But this challenge has given me the motivation to set ambitious goals that take time and focus to reach. It's the complete opposite of instant gratification, which is so common in today's world.

This challenge has given me the motivation to set ambitious goals that take time and focus to reach.
How much has Covid impacted your training?
LP: Covid has had a big impact for us. We live over 200 miles away from each other, and so we've been training solo for the past year. We've had one training session together back in May at RE:ACT HQ. This was our first milestone event, and thankfully training alone hasn't held us back; we were able to flip 12.5km in 8 hours. It was a great way to set a benchmark to see how we were going with training.
We also started planning for the event at the beginning of the Covid pandemic and we had originally aimed to complete the challenge in April 2021. At this point Covid was fairly unknown and we didn't know what the following year would look like. It was difficult to keep the momentum going when the finish line kept moving. When we set the final date for September 2021 we were able to reset our focus and push forward with our training.
HE: The beginning of wave 1 was particularly hard for me. My partner and son moved back to Essex to minimise the risk of spreading Covid whilst I was still working away a lot. I had four months on my own in Devon, separated from my family. But training for the tyre flip actually kept me going through this period. It gave me a challenge every day and a goal to focus on. It was something that I could control while there was a lot of uncertainty across the world.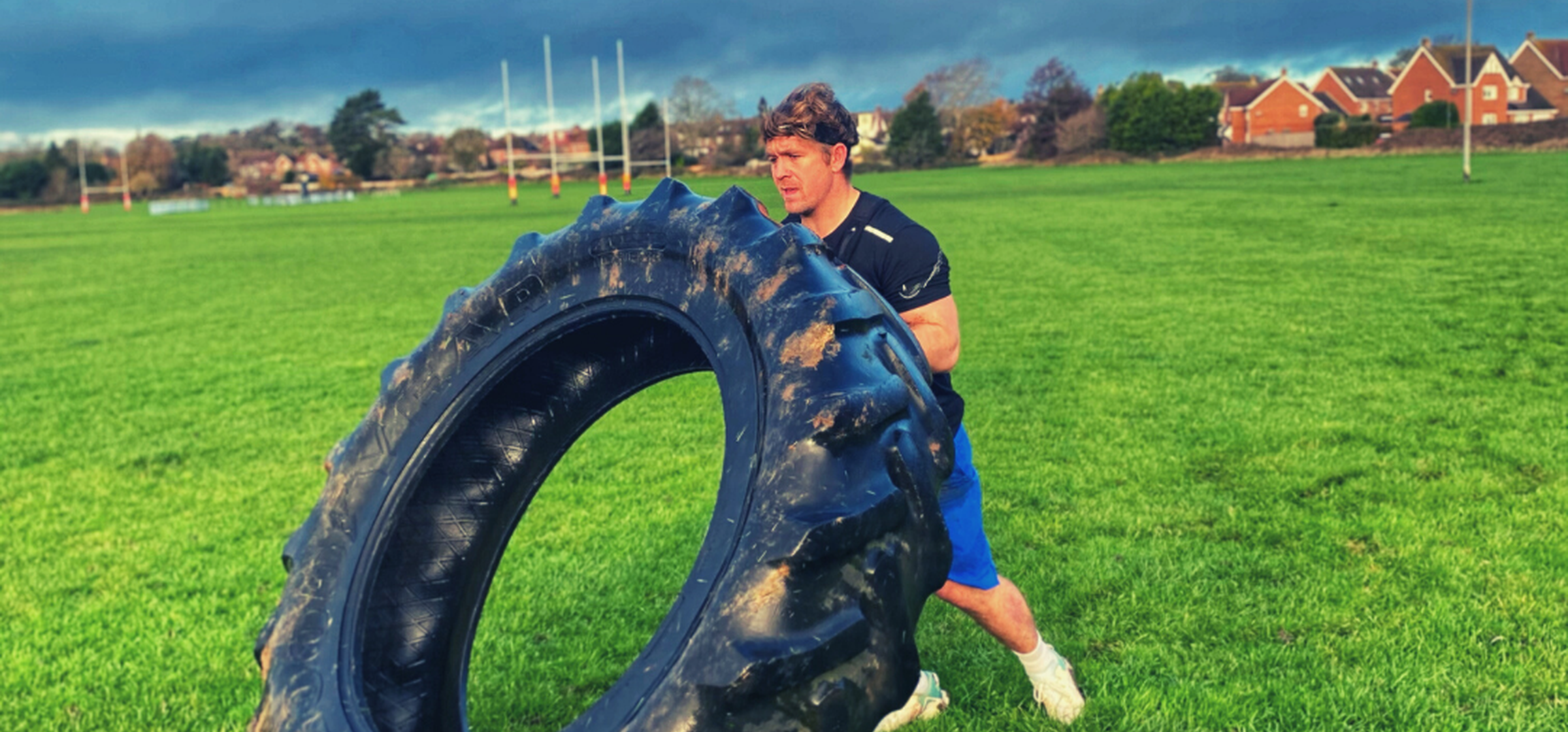 Have you had to overcome setbacks during your training?
HE: Definitely! There's been quite a few times where I've failed during a training session. But failing is all part of it. If training doesn't go to plan the first time, then I take the time to evaluate what I need to do to improve. I give myself 5 minutes where I feel sorry for myself and during this time I'll look at what I can do next time for a more positive outcome. Even if it doesn't go to plan, you can always feel good about trying. You've gone out to challenge yourself.
LP: I think it's all about having perspective and not seeing it as failure, but as part of the process. All of your training, whether it is good or bad, is just part of the course to reach the end goal. Sometimes you don't achieve what you thought you would in a session and that's okay. When you evaluate what happened, there is usually something leading up to the training session that wasn't quite right. Was it the food I ate? How much sleep I had? Was I stressed from work? These are all factors that can hold you back in your training sessions. From looking back at what went wrong, you can change the direction for next time.

I think it's all about having perspective and not seeing it as failure, but as part of the process.
And can you tell us why you're fundraising for RE:ACT?
HE: I'd been involved in humanitarian work during my time in the military and it's always been something that's close to my heart. I also know different people who have volunteered for RE:ACT. Many of them have come out of the military and lost a bit of purpose. They may have a good job, but it doesn't quite give them what they need. When you deploy with RE:ACT, you get that sense of purpose back. It helps you to readjust back into civilian life but also help with your mental health. You feel like you're working towards something bigger than yourself.
LP: The fact that RE:ACT is a smaller charity means a lot to me. They do some incredible work both in the UK and overseas, but because of their size they often get overlooked. It is quite easy to pick one of the larger charities to support, but RE:ACT is doing great things and I want to make sure they get the attention and support they deserve.