Kate Holt: Humanitarian lessons from the front line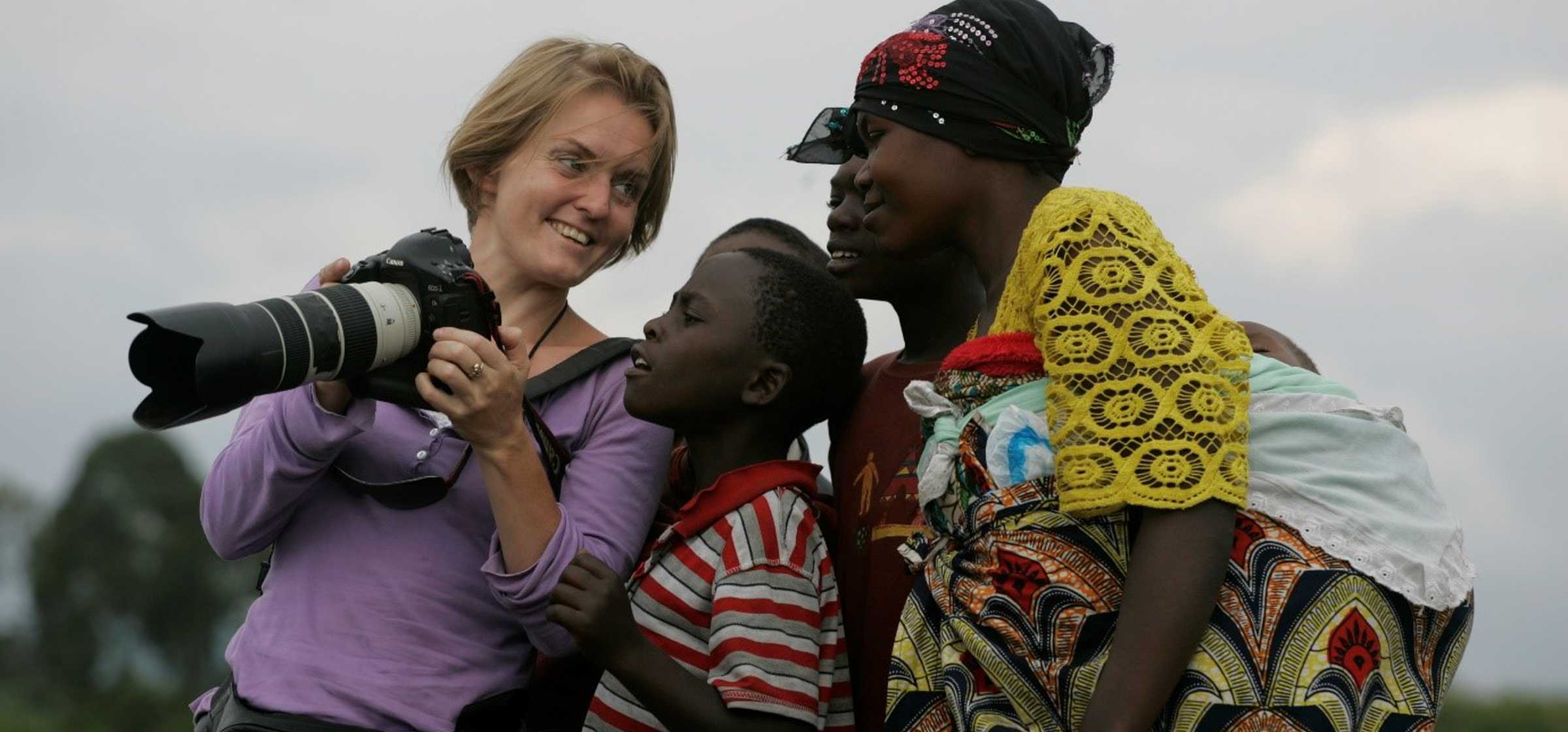 Posted by Angus Tookey 08th July 2020 Interviews
Estimated Reading Time: 4 mins
As we mark 100 days of our Covid-19 response, we sat down with trustee and renowned photojournalist Kate Holt, to talk about her work in the humanitarian sector and what the future brings for RE:ACT.
Born in what was then Rhodesia, now Zimbabwe, Kate grew up during the Rhodesian civil war. Kate's father was a doctor for the British military, and her mother was a journalist – working for both Rhodesian radio and TV, as well as the British Forces Broadcasting Service. She would later become one of the first women to read the news on TV in Africa.
Kate has been a photographer and journalist for over 20 years and has a special interest in humanitarian affairs, working extensively for the aid sector as a photojournalist, in addition to founding a company that specialises in NGO and charity communications. Kate has also spent time embedded as a photographer with the British and US militaries in Afghanistan and with African Union troops from Uganda and Burundi while in Somalia during the liberation of Mogadishu from Al Shabaab.
Kate's most high-profile story was uncovering the sexual exploitation of young girls and boys by UN Peacekeepers in the Congo. This reframed the discussion and understanding of exploitation in the context of development and led to the United Nations setting up internal monitoring bodies, forever changing the policy on relationships between Peacekeepers and beneficiaries.
Photo: Kate Holt. A UN patrol just north of Goma, in the Democratic Republic of Congo.
On how long you've been a trustee of the charity, and why you decided to join the team…
I've been a trustee of the charity for nearly three years. When I first met the chairman, General Sir Nick Parker, and he told me about the organisation, I found the concept of utilising the extensive skills of the military for humanitarian relief captivating. I have spent time working alongside soldiers from the UK, US and African Union and know that their skill set is unique in being able to bring order to chaos.
Photo: Kate Holt. African Union soldiers attempt to retake the city of Mogadishu.
Although I witnessed the efficiency of military aid and humanitarian support, I was left quite frustrated by what I had seen and how often the effectiveness of the assistance was held back by the chain of command and by political agendas. I love the idea of military-trained personnel delivering aid in a purely humanitarian capacity, and I am incredibly inspired by the idea of a charity that gives these highly trained and action-oriented people a platform to do it.
Kate alongside British troops in Afghanistan.
On the rebrand to RE:ACT…
When we were under the Team Rubicon banner, we were linked to our parent organisation in the United States, but over the course of several international deployments we developed different capabilities, specific to our people and unique to our experience. By rebranding to RE:ACT, we have granted the organisation independence to shape our own identity, mission and approach.
The UK is uniquely positioned to deliver aid, with its strong international reputation and deep links to current and former commonwealth countries. With this comes an affinity and understanding of the local culture and landscape, which can be leveraged to quickly build relationships and make use of local knowledge and resources to ensure aid is more effective.
Our new independence, coupled with our military-influenced, collaborative approach, allows us to deliver small and effective strike teams in places larger organisations find it difficult to reach. This became apparent in Mozambique following Cyclone Idai. Our highly mobile teams were able to reach small settlements cut off by flooding and provide structure in a chaotic situation.
Kate working in Papua New Guinea.
And why this is the right moment to do it…
Going through change is never easy; most people naturally feel uncomfortable with it and leading a rebrand is no different. Saying that, I think our rebrand has come at a really interesting and exciting time.
At the moment, there is a great deal of global uncertainty, particularly in the humanitarian sector –there is an urgent need to accept the uncertainty and push forward, putting faith in our considerable experience. The best charities and organisations evolve as situations develop. I see it as a huge strength to be able to adapt to the changing landscape instead of sticking to a traditional aid model that may no longer be working.
There will no doubt be more changes to come. The scale of risks posed globally to public health are huge - with the increasing threat of pandemics, like COVID-19, and more localised public health emergencies, as seen with Ebola, on the rise. The way in which the world responds to emergencies will have to change as international travel will become more restricted. Changes will also be seen as Government funding for humanitarian aid is realigned with the amalgamation of DIFID into the Foreign Office. It is up to us to embrace these changes and seize the opportunities that arise from them.
Photo: Kate Holt. Members of the Combined Joint Inter-Agency Task Force (ISAT) from the British military take part in a demonstration of an emergency field Ebola treatment centre in Freetown, Sierra Leone
On the new direction of RE:ACT…
Much of what we do and the way we do it will remain the same, with the added benefits that come from being completely autonomous. Our volunteers remain our strength and moving forward we want to put a lot more of our focus on the amazing volunteers we have – upskilling them and allowing them to grow into our new brand; aligning them with the changing landscape of what humanitarian needs will become. From public health emergencies to climate change-induced natural disasters, we want our teams of volunteers to be able to RE:ACT to anything.
Kate educating African Union soldiers on documenting via photography.