100 days supporting the fight against Covid-19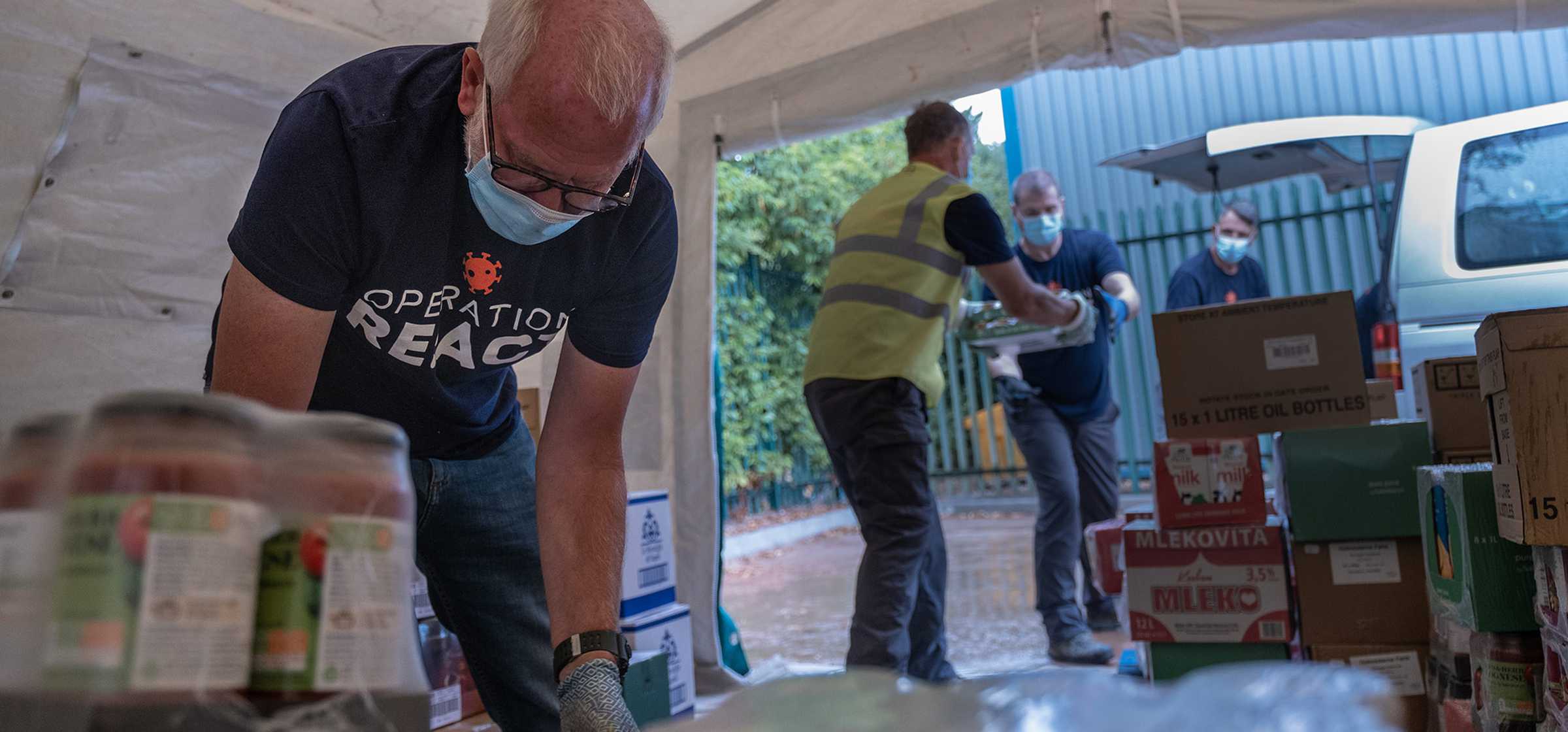 Posted by Alex Whitty 06th July 2020 Press Releases
Estimated Reading Time: 2 mins
CHILMARK, WILTSHIRE (6 JULY 2020) – RE:ACT has reached 100 days of its response to Covid-19, "Op RE:ACT", supporting vital frontline services and vulnerable communities throughout the UK.
In March, as the UK went into lockdown, RE:ACT volunteers around the country were mobilising.
RE:ACT quickly established a National Voluntary Coordination Cell (NVCC) at its HQ in Wiltshire and deployed Regional Liaison Officers to engage and collaborate with the Voluntary and Community Sector Emergencies Partnership (VCS EP), Local Resilience Forums (LRFs) and the British Army, in a coordinated effort to support the NHS and communities.
Using their expertise in disaster response and situational awareness, RE:ACT volunteer Liaison Officers reporting to the NVCC helped to build a common operating picture of national unmet needs, which were then fed back into the VCS EP, to ensure needs were quickly met with the best available resources.
As part of its response, RE:ACT put a call out to the UK's veterans to assist the nation, with almost 5,000 stepping forward to volunteer.
To date, working in collaboration with the NHS, British Army, other charities such as the British Red Cross, FareShare, Serve On, and initiatives such as Salute The NHS and NHS Heroes, RE:ACT volunteers have supported 62 NHS hospitals; helped facilitate nearly 2,500 Covid-19 tests; distributed over 2.3 million meals and 57 tonnes of food, as well as 5.5 million items of PPE.
On reaching 100 days of its Covid response, Richard Sharp, CEO RE:ACT, said:
"We knew when we launched this mission that it would be a huge challenge, but we also knew that behind us we had an incredible group of volunteers who were used to overcoming any obstacles put in their way. The UK, along with the rest of the world, has faced an unprecedented challenge, and we're still not on the other side of it. Our volunteers continue to selflessly serve others. Reaching 100 days isn't something to celebrate but it is a moment to pause and reflect on everything we've achieved and remind ourselves of the many thousands of people we've helped. I'm incredibly proud of what we've been able to do together."
During its response, RE:ACT rebranded from Team Rubicon UK, and expects to continue to operate domestically for several more weeks. RE:ACT is also gearing up to be ready to deploy internationally, with the Atlantic hurricane season approaching.
For press enquiries please contact [email protected].