RE:ACT marks 1 year since the launch of national Covid-19 response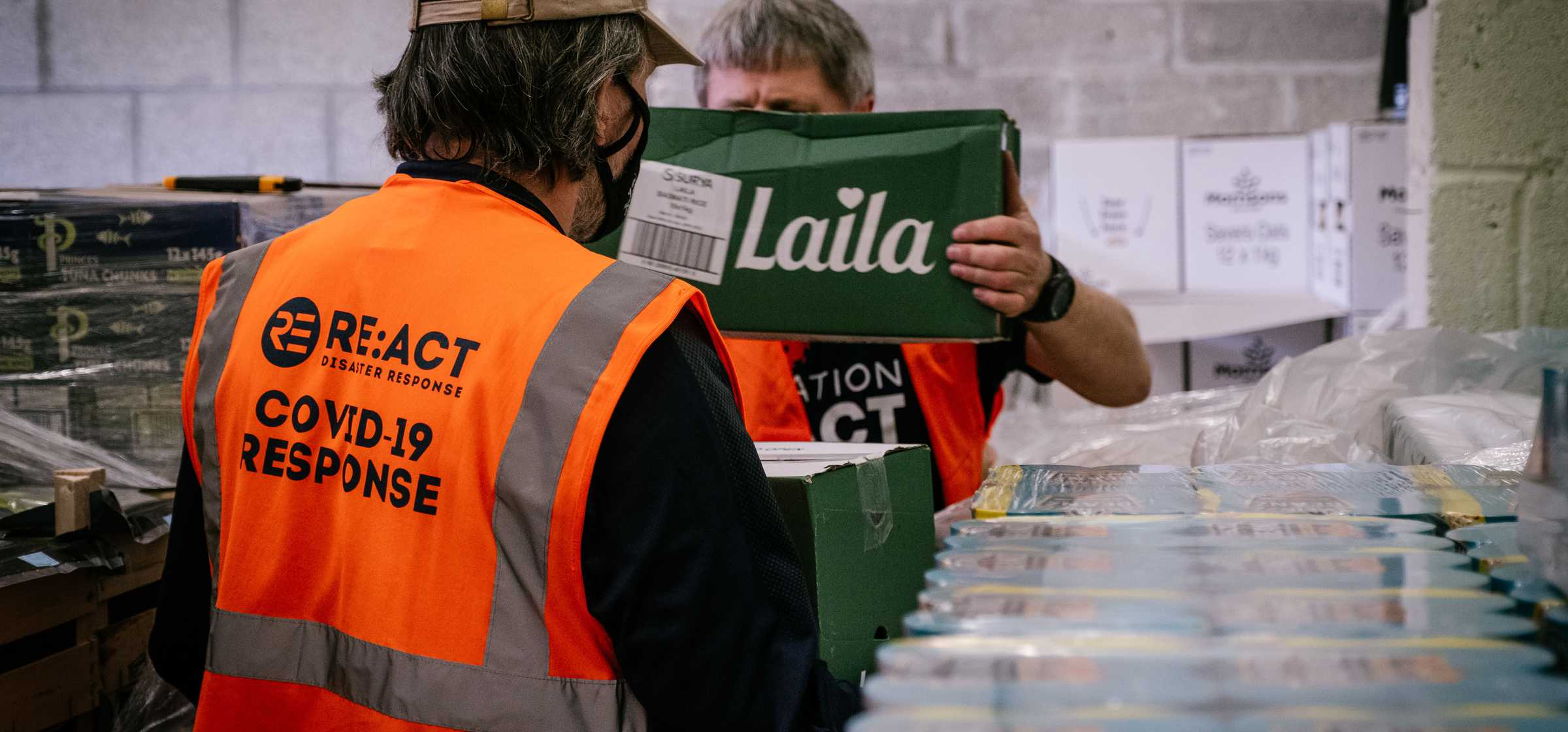 Posted by Alice Prichard 27th March 2021 Press Releases
Estimated Reading Time: 3 mins
CHILMARK (27 MARCH 2020) - RE:ACT is reflecting on the significance of reaching 1 year since the charity mobilised its teams of Responders and volunteers to help the UK overcome the Covid-19 pandemic.

In March 2020, at the beginning of the Covid pandemic in the UK, RE:ACT quickly turned its attention from international disaster response to the developing situation at home, realising that its expertise in emergency response and crisis management could help make a difference to frontline services and vulnerable communities in the UK.
In the first phase of its response, RE:ACT deployed a team of highly-trained and experienced Responders to act as Liaison Officers (LOs), connecting with Local Resilience Forums (LRFs), the military, and collaborating with the voluntary sector, to identify what aid and support was needed and develop critical situational awareness. Simultaneously, RE:ACT established a National Volunteer Coordination Cell (NVCC) at its HQ in Chilmark, Wiltshire, consisting of a team of Information Managers and Field Ops Managers, to prioritise and resource identified tasks.
To fulfil the multiple requests for support, RE:ACT launched a national campaign to recruit veteran volunteers to bolster its volunteer pool, and within a few weeks over 6000 veterans had signed up with the charity.
During the first wave of Covid, RE:ACT was involved in supporting vital PPE distribution, emergency food support, community testing, welfare checks for people shielding, and temporary mortuary assistance. The charity also played a key role in supporting local authorities with strategic planning and coordination. In wave two, RE:ACT provided vital assistance to a severely under pressure NHS, helping with hospital bed and ambulance decontamination, PPE supplies, portering and non-clinical tasks in ICU Covid Red Zones, including patient proning. RE:ACT has also supported several NHS mass vaccination sites, as well as surge testing following outbreaks of the South African variant.
To date, RE:ACT's support includes 20 NHS mortuaries where 4,290 deceased individuals were cared for by their volunteers. In addition, teams supported 13 Covid vaccination centres, completed 4,523 safe and well checks on vulnerable individuals and cared for 2,742 of the most critically ill patients in ICU wards across the UK. Over 10 million PPE items were distributed over the last year.
On reaching 1 year of Covid response, Richard Sharp, CEO RE:ACT, said:
"The impact the charity has delivered over the past 12 months has been remarkable and far exceeded our expectations. RE:ACT has put everything into supporting the nation since the very beginning of Covid. We had no doubt we could play an important role but we couldn't foresee how integral we would become to the main effort throughout the UK. The fact that we're now providing critical support to the NHS, not just at mass vaccination centres but with our volunteers also going into Covid ICU wards, shows how far we've come as a charity, and the impact we've been able to deliver to those who needed it.
"That impact is thanks to the extraordinary set of people we have, who stepped up to serve the country when support was needed and threw themselves into the challenge. Without that desire, resilience and commitment, none of this would have been possible, and undoubtedly the people and organisations we've helped would have been in a worse situation. Of course, we look back on the past year with a sense of pride but it's also a moment to reflect on and remember the devastation that Covid has caused to so many families and communities."
RE:ACT continues to support the UK with the vaccine rollout and community testing, and is on standby to provide additional support as needed, as the charity looks to recover from its long campaign, and prepare for its next deployments in the UK and overseas.
-ENDS-
For press enquiries please contact [email protected].